Differentiable quantum generative models (DQGM)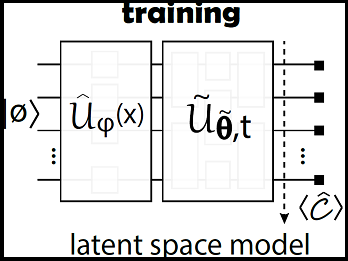 After some time in the making, we are ready to present new members of quantum machine learning toolbox - differentiable quantum generative models (or DQGM for short!) [arxiv]
Together with Vincent Elfving and Annie Paine we set a goal of advancing generative modelling by introducing quantum embeddings and model differentiation. Here is our strategy. We use feature maps for building models as functions of continuous parameters, and utilize projective measurements for fast sampling on quantum computers. The models we build can be automatically differentiated and benefit from differential constraints.
Why is it important? Recently, quantum computers have shown a promise in learning from data. But there are simply to many options when we choose (train) a model (circuit). What if we use an additional knowledge about typical processes happening in an underlying system, and constraint the model to satisfy corresponding differential equations?
We believe the power of data and differentiation can boost the process of building QML models, and enable efficient generative modelling. Huge thanks go to PASQAL for continuous support!